BLOOMINGTON, Minn. – March 3, 2020 – The Men's League of the Western Collegiate Hockey Association is proud to recognize four student-athletes as its Players of the Month. The honorees for February 2020 are: Alaska junior Steven Jandric (Forward), Minnesota State sophomore Dryden McKay (Goaltender) and Lake Superior State junior William Riedell (Defenseman) and freshman forward Louis Boudon (Rookie).

WCHA Forward of the Month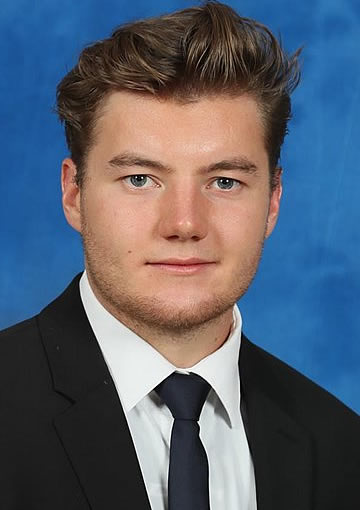 Steven Jandric, Jr., Alaska (Prince George, B.C.)
Alaska junior Steven Jandric's 12 points led the WCHA and tied for seventh nationally in scoring with 12 points on five goals and seven assists in six games. The Prince George, B.C., native also led the conference in goals per games played (0.83), points per games played (2.00), power-play assists (five) and power-play points (six). On Feb. 28, Jandric posted his first career hat trick against Alaska Anchorage in a 5-2 victory. Additionally, Jandric tallied three game-winning points during the month. Jandric's efforts helped the Alaska Nanooks to an unbeaten mark in February, earn their eighth-straight Alaska Airlines Governor's Cup and secure home ice for the first round of the 2020 WCHA Playoffs.
Honorable Mention: Connor Ford, Jr., Bowling Green: Led the Falcons in points in February with 11 on a goal and a league-high 10 assists – three of which came on game-winning goals – as the Falcons finished the month 6-1-2 to lock down a WCHA Playoff berth. Ashton Calder, So., Lake Superior State: Led the WCHA in goals for the month with six and added four assists to register 10 points in February, which tied for the third-highest total in the league. Walker Duehr, Jr., Minnesota State: Tallied at least one point in five of seven games in February in helping lead the Mavericks to a 5-1-1 record for the month. His eight points on a goal and seven assists led the Mavericks in scoring for the month, with his top performance being a three-assist night against Alabama Huntsville on Feb. 22.
WCHA Defenseman of the Month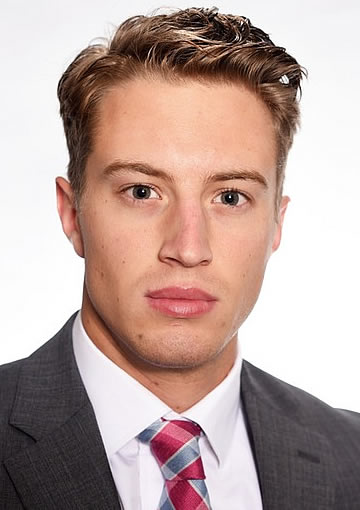 Will Riedell, Jr., Lake Superior State (Greensboro, N.C.)
Lake Superior State's Will Riedell tied for first among WCHA defensemen in goals with three, assists with six and points with nine. The nine-point effort in the month of February established new season highs for the junior in goals with five, assists with 11, and points with 16. Riedell tallied points in five of the Lakers eight games in the month with three multi-point games, including a career-best three-assist effort against Michigan Tech on Feb. 7. The Greensboro, N.C., native led the Lakers with a +8 rating in the month, which was second best among league defenders. Riedell ranked second on the Lakers in points in February and also contributed seven blocked shots.
Honorable Mention: Alec Rauhauser, Sr., Bowling Green: Registered eight points in February on two goals and six assists to share the team scoring lead for the month. The totals include an overtime game-winning goal at Alaska Anchorage on Feb. 7. Colin Swoyer, So., Michigan Tech: Shared the WCHA blueliner lead in goals (three), assists (six) and points (nine) while firing 14 shots on goal and blocking seven shots during the month.
WCHA Goaltender of the Month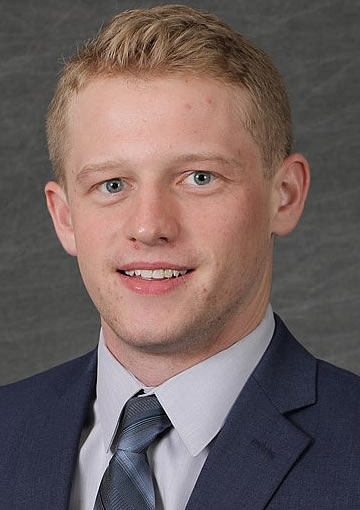 Dryden McKay, So., Minnesota State (Downers Grove, Ill.)
Minnesota State's Dryden McKay earned his third WCHA Goaltender of the Month honor of the season in February after leading the league in goals against average (1.14) and shutouts (three) while sharing the WCHA lead in wins with five (5-1-1). The Downers Grove, Ill., native was named WCHA Goaltender of the Week twice during month. His first honor came following MSU's sweep of Northern Michigan, Feb. 7-9, when he stopped 43-of-46 shots for 1.50 goals against average and .935 save percentage. He made 21 saves in a 7-3 game one victory and then picked up his eighth shutout of the season by stopping all 22 shots in a 1-0 triumph the following night. The shutout also gave him a school-record 12 for his Minnesota State career, a number he has since extended to 14. He earned his second weekly honor following a home sweep over Alabama Huntsville, Feb. 21-22, with back-to-back shutouts over the Chargers.
Honorable Mention: Zach Driscoll, Jr., Bemidji State: Posted a six-game unbeaten streak (5-0-1) to begin the month and led the WCHA in save percentage with a .953 mark, which also ranked second nationally. Eric Dop, Jr., Bowling Green: Posted a 4-0-2 mark for the Falcons in February to lead the WCHA in winning percentage at .833.
WCHA Rookie of the Month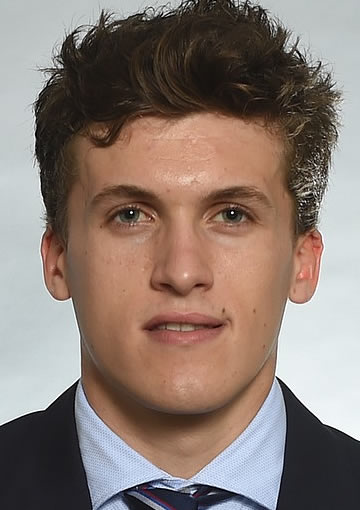 Louis Boudon, Fr., F, Lake Superior State (Grenoble, France)
Lake Superior State's Louis Boudon led all WHCA rookies in assists with six and points with eight in the month of February. The Grenoble, France native is riding an active five-game point streak as he has scored all eight points in the past five contests, which includes a pair of multi-point games. It marks the second time in his first season that Boudon has recorded a five-game point streak. In that span the Lakers have posted a 4-1-0 record and an overall record of 5-2-1 in the month of February. The freshman forward notched his first career game-winning goal in the Lakers 4-2 win over Ferris State on Feb. 29 while also adding two assists in the game to record his third three-point game of the season. With his eight-point performance in the month, Boudon ranks second among all freshman in the WCHA in points this season with 26 and is one of two freshmen in the league with 20 or more assists this season. The kinesiology major is one of seven players in the WCHA to register at least 20 assists this season.
Honorable Mention: Elias Rosén, Fr., D, Bemidji State: Shared the WCHA and NCAA lead rookie defenseman scoring with nine points on two goals and seven assists in January, with five (2g-3a) of his nine points coming on the power play. Zack Rose, Fr., G, Bowling Green: Picked up his first two career wins with the Falcons in February, finishing the month with a 2-1 record.