BLOOMINGTON, Minn. – April 13, 2021 – The Men's League of the Western Collegiate Hockey Association is proud to recognize four student-athletes as its Players of the Month for March/April. Lake Superior State's Ashton Calder (Forward), Northern Michigan's Michael Van Unen (Defenseman), Bemidji State's Zach Driscoll (Goaltender) and Minnesota State's Jake Livingstone (Rookie) are this month's honorees. The awards are presented by Anderson's Pure Maple Syrup.

WCHA Forward of the Month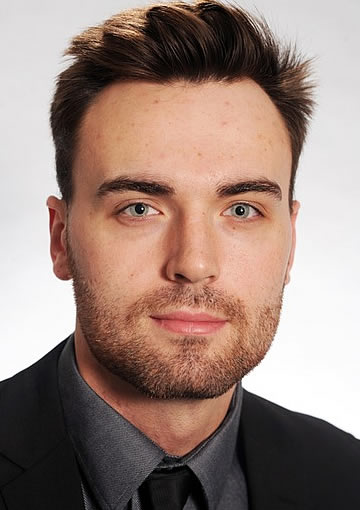 Ashton Calder, Jr., Lake Superior State (Sault Ste. Marie, Mich.)
Lake Superior State junior Ashton Calder led all WCHA players in points during March with 11 on seven goals and four assists in eight games. Calder's seven goals ranked first among WCHA skaters and second nationally over that span. The alternate captain recorded a WCHA-best two hat tricks during the month with the first coming in the Lakers 5-2 win at Bemidji State on March 3 while the second came in the Lakers 6-3 victory in the WCHA Championship Game against Northern Michigan on March 20. For his three-goal effort in the title game, which included the game-winning goal to clinch LSSU's first WCHA championship, Calder received Most Outstanding Player honors. The Sault Ste. Marie, Mich., native scored his seventh goal of the month in the Lakers 5-1 loss to eventual national champion Massachusetts in the opening round of the NCAA Tournament on March 26. His +10 rating during March was tied for the second best in the conference and tied for first in the WCHA among forwards while he led all WCHA skaters in shots on goal in March with 36. This is Calder's fourth career WCHA monthly honor and his second this season.
Honorable Mention: Sam Craggs, Sr., Bowling Green: Led the Falcons in points during the WCHA playoff series against Northern Michigan, tallying five points over the three contests. Walker Duehr, Sr., Minnesota State: Shared the team lead in points in March and April with seven on four goals and three assists, including a goal and an assist against St. Cloud State in the Frozen Four. AJ Vanderbeck, So., Northern Michigan: Led the team in points during the postseason, recording eight on two goals and six assists in five games played with five of the helpers coming on the power play.
WCHA Defenseman of the Month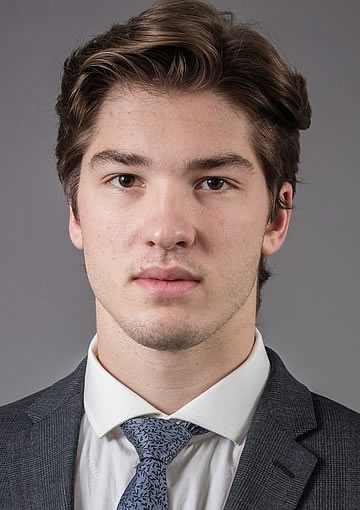 Michael Van Unen, So., Northern Michigan (Kamloops, B.C.)
Northern Michigan sophomore Michael Van Unen finished second on the team in blocked shots with 17 in five March contests, averaging 3.4 per game. The Kamloops, B.C., native led all NMU defensemen in postseason points, picking up four assists in five games to help lead his team to the WCHA championship game. In the two games played in Mankato, the sophomore led the team with 10 blocked shots, including seven in the WCHA semifinal matchup against top-seeded Minnesota State. His four points ranked third among WCHA defensemen while his four assists were a WCHA best. He was second in both the league and the NCAA in blocked shots behind fellow NMU blueliner Ben Newhouse. This is Van Unen's first WCHA monthly honor.
Honorable Mention: Will Cullen, Jr., Bowling Green: Tallied three assists over the course of the Falcons' three games against Northern Michigan in the WCHA playoffs. Jacob Nordqvist, Jr., Lake Superior State: Tied for the lead in points among WCHA defensemen during the month of March with a goal and four assists for five points in eight games.
WCHA Goaltender of the Month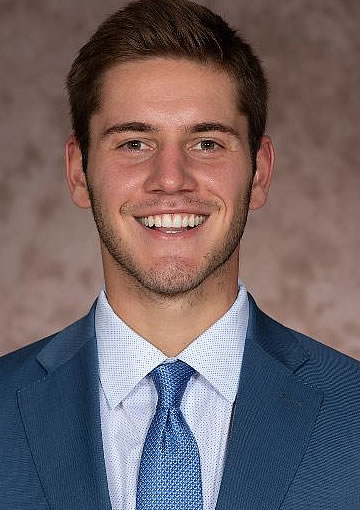 Zach Driscoll, Sr., Bemidji State (Apple Valley, Minn.)
Bemidji State senior Zach Driscoll led all WCHA netminders in games played (nine), wins (six), and minutes played (534:27) over the season's final two months. The Apple Valley, Minn., native's 231 saves topped in the league by more than 50 while his GAA (1.91) and save percentage (.926) ranked second and third, respectively, in the WCHA. This is Driscoll's first career WCHA monthly honor.
Honorable Mention: Dryden McKay, Jr., Minnesota State: Helped lead Minnesota State to its first Frozen Four appearance with wins over Quinnipiac and Minnesota in the West Regional, including a 22-save effort in a 4-0 win over the top-seeded Gophers in the regional final. The shutout was his WCHA record-equaling 10th of the season, tying the mark he set in 2019-20.
WCHA Rookie of the Month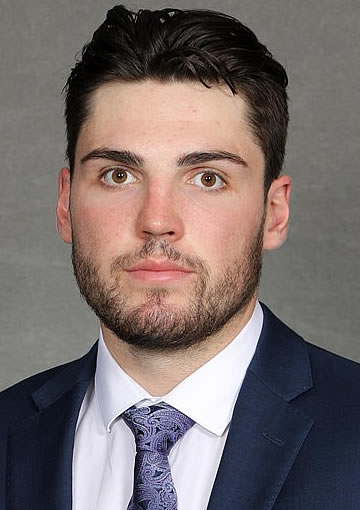 Jake Livingstone, Fr., D, Minnesota State (Creston, B.C.)
Minnesota State freshman defenseman Jake Livingstone led all WCHA rookies in plus/minus with a +8 rating and topped the blocked shots chart with 10 over the course of March and April. The Creston, B.C., native helped lead Minnesota State to the NCAA West Regional championship and the program's first-ever NCAA Frozen Four appearance. Livingstone assisted on Cade Borchardt's game-tying goal as Minnesota State rallied for a come-from-behind 4-3 overtime win over Quinnipiac in the West regional semifinal on March 27. This is Livingstone's first career WCHA monthly honor.
Honorable Mention: Ethan Scardina, Fr., F, Bowling Green: Scored his first career goal in the Falcons' Game 2 win in their WCHA quarterfinal series with Northern Michigan in March. Jacob Bengtsson, Fr., D, Lake Superior State: Finished the month tied for second among WCHA rookie skaters in points with three on two goals and one assist. Rico DiMatteo, Fr., G, Northern Michigan: Boasted a 3-2-0 record in the postseason, leading his team to the WCHA Championship contest. Held a .919 save percentage with 159 saves in five games to rank third in stops behind two of the WCHA's NCAA tournament netminders.
---
About Anderson's Pure Maple Syrup
Anderson's Maple Syrup Inc. is proud to continue its 90-year tradition of producing, processing, and packaging consistently high-quality pure maple syrup, organic pure maple syrup, and other maple products. For more information, visit Anderson's Pure Maple Syrup.