The 2019 WCHA Postseason Tournament will again follow a 3-3-1, host-site format
"Hockey is the best sport there is, playoff hockey is the best of the best, and winning a championship in your home arena – or coming together as a team to win on the road – is one of the greatest feelings a player or coach can have." – Bob Daniels, head coach, Ferris State University
---
There's No Place Like Home
It is time for on-campus, playoff hockey!
Bringing the singular intensity and passion of playoff college hockey directly to our member institution fans, the 2019 WCHA Postseason Tournament – from the quarterfinals through the championship game – will again be hosted by the highest remaining seeds at on-campus venues.

Format
The three-week, eight-team tournament will play out from March 8-23, 2019 at campus venues. The eight (8) qualifying teams for the 2019 WCHA Tournament shall be seeded per their finish in the final 2018-19 WCHA regular season standings (teams will NOT be re-seeded with each proceeding round).
2019 WCHA Playoffs – Quarterfinals (March 8-10; best-of-three, hosted by higher seeds)
#8 seed at #1 seed
#7 seed at #2 seed
#6 seed at #3 seed
#5 seed at #4 seed
2019 WCHA Playoffs – Semifinals (March 15-17; best-of-three, hosted by higher seeds)
Lowest remaining seed at highest remaining seed
Second-lowest remaining seed at second-highest remaining seed
2019 WCHA Championship (March 23; single game, hosted by higher seed)
Lowest remaining seed at highest remaining seed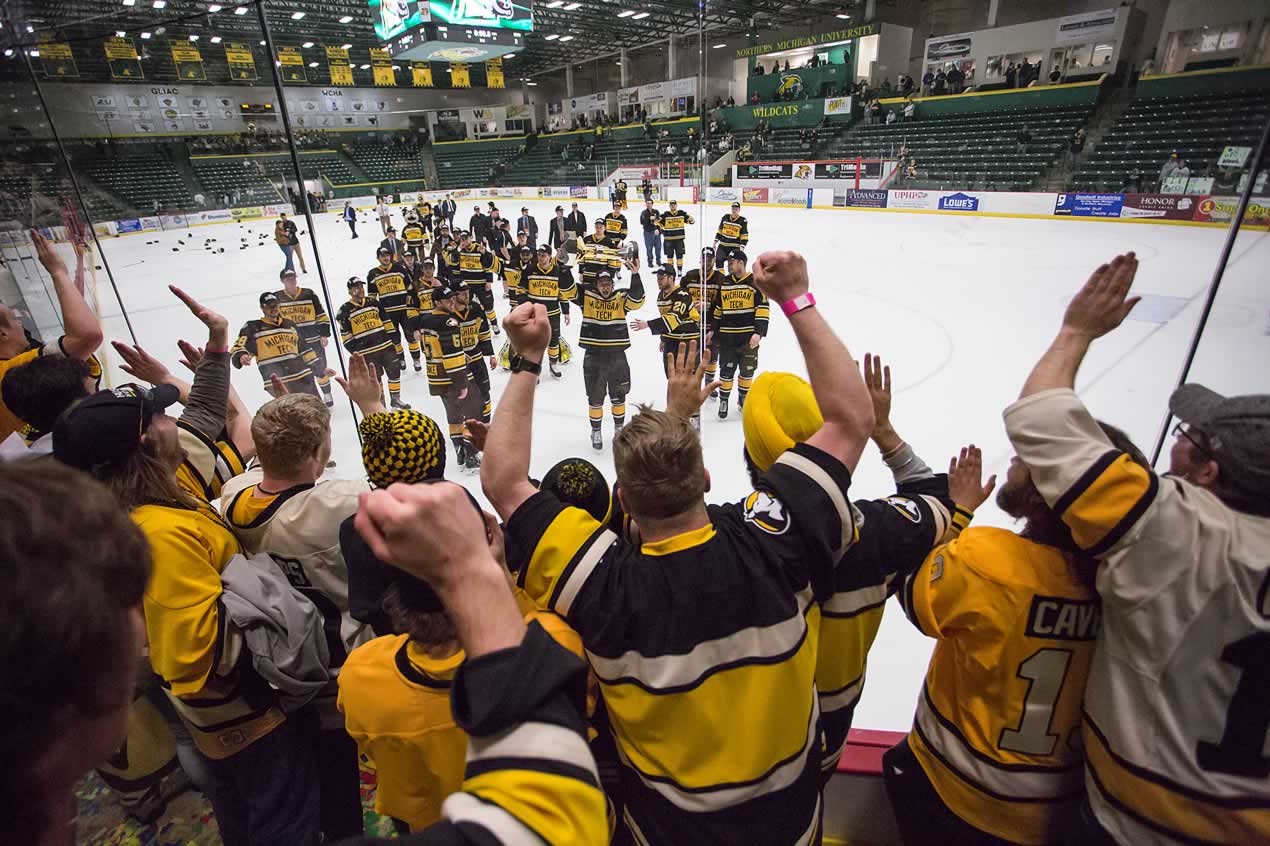 ---
All-time WCHA Playoff Champions
Season
Playoff Champion(s)
1959-60
Denver* and Michigan Tech*
1960-61
Denver* and Minnesota*
1961-62
Michigan Tech
1962-63
Denver
1963-64
Denver
1964-65
Michigan Tech
1965-66
Denver^ and Michigan State^
1966-67
Michigan State^ and North Dakota^
1967-68
Denver^ and North Dakota^
1968-69
Denver+ and Michigan Tech+
1969-70
Michigan Tech+ and Wisconsin+
1970-71
Denver+ and Minnesota+
1971-72
Denver^ and Wisconsin^
1972-73
Denver^ and Wisconsin^
1973-74
Michigan Tech^ and Minnesota^
1974-75
Michigan Tech ^ and Minnesota^
1975-76
Michigan Tech^ and Minnesota^
1976-77
Wisconsin
1977-78
Colorado College^ and Wisconsin^
1978-79
Minnesota^ and North Dakota^
1979-80
Minnesota^ and North Dakota^
1980-81
Michigan Tech^ and Minnesota^
1981-82
Wisconsin
1982-83
Wisconsin
1983-84
Minnesota Duluth
1984-85
Minnesota Duluth
1985-86
Denver
1986-87
North Dakota
1987-88
Wisconsin
1988-89
Northern Michigan
1989-90
Wisconsin
1990-91
Northern Michigan
1991-92
Northern Michigan
1992-93
Minnesota
1993-94
Minnesota
1994-95
Wisconsin
1995-96
Minnesota
1996-97
North Dakota
1997-98
Wisconsin
1998-99
Denver
1999-00
North Dakota
2000-01
St. Cloud State
2001-02
Denver
2002-03
Minnesota
2003-04
Minnesota
2004-05
Denver
2005-06
North Dakota
2006-07
Minnesota
2007-08
Denver
2008-09
Minnesota Duluth
2009-10
North Dakota
2010-11
North Dakota
2011-12
North Dakota
2012-13
Wisconsin
2013-14
Minnesota State
2014-15
Minnesota State
2015-16
Ferris State
2016-17
Michigan Tech
2017-18
Michigan Tech
* WCHA first round playoff winners;
^ WCHA second round playoff winners;
+ WCHA East and West Regional playoff winner