BLOOMINGTON, Minn. – Oct. 29, 2019 – The women's league of the Western Collegiate Hockey Association is proud to recognize four student-athletes as the WCHA Players of the Week after their fantastic performances in the fifth week of competition of the 2019-20 season. The honorees for games of Oct. 25-27 are Minnesota Duluth senior Maddie Rooney (Goaltender) and freshman forward Kasundra Betinol (Rookie), Minnesota junior Grace Zumwinkle (Forward) and Minnesota State sophomore Anna Wilgren (Defenseman).

WCHA Forward of the Week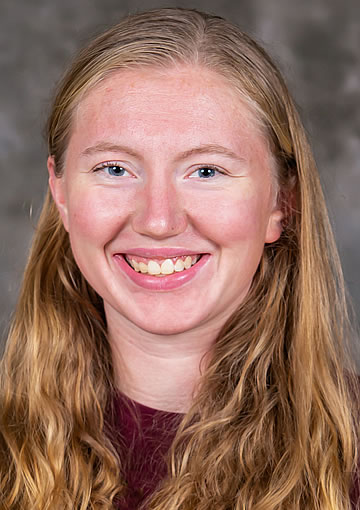 Grace Zumwinkle, Jr., Minnesota (Excelsior, Minn.)
Minnesota's Grace Zumwinkle led her team with four points on four goals as the Gophers split a series on the road at No. 9/8 Ohio State last weekend. Zumwinkle scored four of Minnesota's seven goals against the Buckeyes with a pair of two-goal games. She scored Minnesota's first goal, tying the game at 1-1, and third goal, a power-play tally to bring the Gophers within one at 3-2, in the Gophers' 4-3 loss in game one. In game two, Zumwinkle once again scored Minnesota's first goal, another game-tying goal to make it 1-1, and the eventual game-winner, which put the Gophers up 3-1 in the third period on the way to a 4-2 win. Zumwinkle led the WCHA with four goals, one power-play goal, one game-winning goal, and 18 shots on goal over the weekend. Her four goals and 18 shots on goal were tops in the nation as well. Zumwinkle's four-goal effort included her 50th career goal as a Gopher; she is closing in on 100 career points as she wrapped up the weekend with 95 career points on 51 goals and 44 assists. Her four-goal series tied her career best as well.
Honorable Mention: Brittyn Fleming, Jr., Minnesota State: Scored the lone goal in the 1-0 win in game one and then assisted on a power-play goal in game two against St. Cloud State. Liz Schepers, Jr., Ohio State: Scored two goals in the 4-3 win over No. 2/2 Minnesota Friday for her second multi-goal game of the season. Sophie Shirley, So, Wisconsin: Tied for first over all WCHA forwards last weekend with four points thanks to two goals and two assists in the No. 1 Badgers sweep of Bemidji State.
WCHA Defenseman of the Week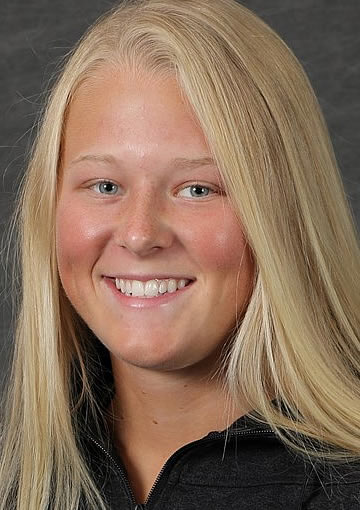 Anna Wilgren, So., Minnesota State (Hudson, Wis.)
Minnesota State's Anna Wilgren assisted on the lone goal in game one and then scored the game-winning goal in game two over St. Cloud State. Wilgren found junior Brittyn Fleming in the slot from behind the net for the only goal in the 1-0 shutout win in game one on the power play. Wilgren then scored the game-winning goal in game two after stealing the puck in the neutral zone and then going top shelf on the breakaway goal at the 8:03 mark in the second period. The game-winning goal was crucial in helping Minnesota State sweep a WCHA opponent for the first time since Feb. 15-16, 2014 and have the best 10-game start (4-4-2) since the 2013-13 season. Wilgren was also a key contributor for the Maverick special teams that scored on two of seven chances on the power play and killed off all seven MSU penalties. Wilgren had three blocked shots on the weekend and now has 34 on the season which in second in the NCAA. Her two points were tied for second most among WCHA blueliners, and Wilgren scored the only game-winning goal among defenseman.
Honorable Mention: Patti Marshall, Sr., Minnesota: Assisted Emily Oden's game-tying goal in game one, which tied the game at 3-3 in the third period, and she picked up another assist on the game-winning goal in Minnesota's 4-2 win in game two. Ashton Bell, Jr., Minnesota Duluth: Was instrumental in running the Bulldogs backline, dishing an assist in each game as well as adding a shorthanded goal to ice the game in Saturday's win. Sophie Jaques, So., Ohio State: Had two assists in Friday's win and leads the team in defensive points with 8 overall from 1 goal and 7 assists. Nicole LaMantia, So., Wisconsin: Led all WCHA defensemen last weekend with three points thanks to a goal and two assists in the No. 1 Badgers sweep of Bemidji State
WCHA Goaltender of the Week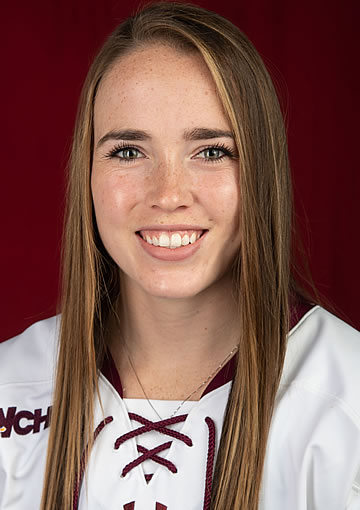 Maddie Rooney, Sr., Minnesota Duluth (Andover, Minn.)
Minnesota Duluth's Maddie Rooney was unflappable in goal in this weekend's Ice Breaker tournament, earning a spot on the All-Tournament Team after making 52 saves on 54 shots and post a WCHA-high .963 save percentage among goaltenders who played two games. Rooney also posted a 1.00 GAA - tying her for a league-low among netminders on the ice for both games. Minnesota Duluth - with Rooney's help - held their opponents power play to just 1-of-12 on the weekend.
Honorable Mention: Abigail Levy, So., Minnesota State: Collected the 1-0 shutout victory in game one after making all 30 saves in the contest and collected an assist on the lone goal. Andrea Braendli, So., Ohio State: Tallied 33 saves in each game this weekend for a total of 66 stops on the weekend. Kristen Campbell, Sr., Wisconsin: Ranked fourth among all WCHA goaltenders last weekend having started and played for all 120:00 minutes in both of UW's 4-1 wins Saturday and Sunday against Bemidji State.
WCHA Rookie of the Week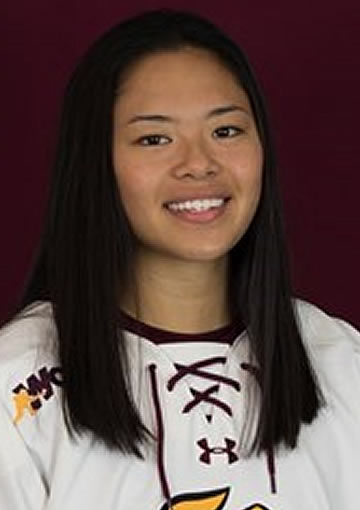 Kasundra Betinol, Fr., F, Minnesota Duluth (Okotoks, Alta.)
Minnesota Duluth's Kasundra Betinol scored her first two collegiate goals over the weekend, the first against Mercyhurst Friday afternoon and the second, a finished breakaway against Colgate that was the game-winning tally. With two goals, Betinol led all WCHA rookies on the weekend in both goals and points and was named to the Ice Breaker All-Tournament Team for her efforts.
Honorable Mention: Calla Frank, Fr., G, Minnesota State: Collected her second career win in game two against St. Cloud State by making 34 saves. Frank made seven saves in the opening period, 11 in the second and 14 in the final period to keep the Buckeyes scoreless through the second overtime period and force a shootout.