UND's Shelby Amsley-Benzie And UAA's Austin Sevalrud Named WCHA Postgraduate Scholarship Recipients For 2016
Exemplary student-athletes will be given $7,500 each to assist in postgraduate studies
Shelby Amsley-Benzie of North Dakota is the 2016 recipient of the women's WCHA Postgraduate Scholarship
EDINA, Minn. – May 10, 2016 – A pair of Western Collegiate Hockey Association (WCHA) student-athletes who have excelled both on and off the ice – Shelby Amsley-Benzie of the University of North Dakota and Austin Sevalrud of the University of Alaska Anchorage – are the women's and men's WCHA Postgraduate Scholarship recipients for 2016.
Now in its 13th year, the WCHA Postgraduate Scholarship Program awards grants of $7,500 each for postgraduate studies.
"On behalf of the entire Western Collegiate Hockey Association family, we are thrilled to recognize Ms. Shelby Amsley-Benzie and Mr. Austin Sevalrud as this season's Postgraduate Scholarship recipients," said Bill Robertson, WCHA President, Men's Commissioner and Interim Women's Commissioner. "Shelby and Austin are both exemplary student-athletes who embody the true mission of the WCHA and its member institutions.
"During their time on campus, Shelby and Austin competed at the highest level of college hockey, maintained a standard of academic excellence and made invaluable contributions within their communities. Both have proven to be selfless individuals who aspire to further their education with the goal of making lasting contributions for the betterment of society; we are truly thrilled to be able to assist in these inspiring ambitions. We applaud their commitment, effort and dedication; we thank them for being tremendous ambassadors for the WCHA; and we wish them all the best in their future academic and personal endeavors."
2016 WCHA Postgraduate Scholarship Recipient (Women's)
Shelby Amsley-Benzie, University of North Dakota (Warroad, Minn.)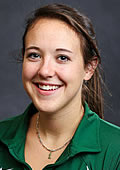 By any and all measures, Amsley-Benzie represents the very best of college athletics. One of the nation's top goaltenders, a 4.0 student while pursuing a combined degree program, and tireless in her devotion to giving back in the community, she is an ideal representative of the University of North Dakota, the WCHA and the NCAA.
A two-time, top-10 finalist for the Patty Kazmaier Memorial Award, a 2015 All-American and WCHA Goaltending Champion, and a First Team All-WCHA performer (junior season), Amsley-Benzie posted a 67-33-10 career record in 111 collegiate games, along with a .929 save percentage, a 1.69 goals-against average and 22 shutouts. She is UND's all-time leader in every major goaltending category, while in WCHA history she ranks sixth for shutouts, eighth for games played, tied for eighth for wins, 12th for GAA, tied for 14th for save percentage and 16th for saves (2,474).
While compiling a prestigious and ongoing athletic career, which has also included invitations to four prestigious USA Hockey camps or training sessions, Amsley-Benzie has excelled academically. The native of Warroad, Minn. has maintained a perfect 4.0 grade-point average in a combined degree program within UND's College of Engineering and Mines, which will allow her to obtain a Bachelor of Science in Chemical Engineering and a Master of Science with a major in chemical engineering over the course of five years.
Simply put, her career goals in the field are nothing short of remarkable. After pursuing a Master of Science degree in Chemical Engineering, Amsley-Benzie hopes to apply knowledge of how drugs interact with the body and apply it to help those who are suffering from various afflictions – from working to develop new cancer-fighting drugs to enhancing current medications to assist those plagued with disease to live longer and fuller lives.
"Receiving this award is one of the greatest feelings I've had, and I am very grateful," said Amsley-Benzie. "I will be able to finish my master's degree in chemical engineering with a conjugate in biology. After finishing my studies, my goal is to work for a drug company or in the pharmaceutical field to develop new drugs that can help those suffering throughout the world.
"This award enables me to finish my graduate work at UND, while being less of a financial burden on my mother, who is a single mother of two and who has sacrificed so much for me – financially and emotionally – to allow me to pursue my dreams of being a Division I college athlete and to someday play for the U.S. Women's National Team. Education has always been a priority to me and my family; knowing that my mother will not have to worry about me while I finish my studies is really what makes this award so special to me."
A two-time Academic All-American, Amsley-Benzie is also a four-time WCHA Scholar-Athlete Award recipient and was a member of the WCHA All-Academic Team four years running. She has spent nine semesters on the UND Dean's List and President's Honor Roll, and has been part of the Athletic Department Honor Roll for Student-Athletes during each of her five years. She has also consistently given back to the community by volunteering across a variety of settings, both on campus and in the greater Grand Forks area.
Nominating Amsley-Benzie for the WCHA Postgraduate Scholarship was Dr. Sue Jeno, Faculty Athletics Representative at the University of North Dakota.
2016 WCHA Postgraduate Scholarship Recipient (Men's)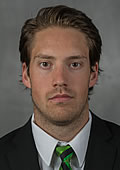 Austin Sevalrud, University of Alaska Anchorage (Calgary, Alberta)
Sevalrud was a four-year regular on the Alaska Anchorage blue line, playing in 129 career games. An exemplary leader in all areas, from the classroom to the locker room, he wore the captain's "C" during his senior year. Academically, Sevalrud was a three-time recipient of the WCHA Scholar-Athlete Award and a three-time WCHA All-Academic Team member, while he maintained a cumulative 3.75 grade-point average and earned a Bachelor of Business Administration in finance.
After playing in eight regular season games with the ECHL's Fort Wayne Komets this spring, Sevalrud has future plans to enroll in a combined JD/MBA program. Building upon his undergraduate finance degree, he believes the advanced combination of legal and financial knowledge, with corresponding administrative applications, would better position him to become a socially responsible executive able to make a significant, positive impact on society.
"I am honored to have received this award and am so proud to continue representing the WCHA as I move on with my education and career," said Sevalrud. "I intend to pursue a combined JD/MBA, and aspire to establish a successful legal practice. My hope is to use this generous gift to achieve my personal goals and, in turn, give back to the hockey community that has given me so much.
"My four years in the WCHA have been incredible. The league does a tremendous job of supporting its athletes and has a tradition that we are all incredibly proud of. I want to thank the league, the administration, the officials, the players and coaches for making my four years so special."
Sevalrud departs Alaska Anchorage having made a lasting impact on the program and community. He set and met a goal to increase the number of volunteer hours by the team, initiating outreach programs centering on Special Olympics programs, while advocating for the Seawolves' fundraiser for St. Baldrick's that helped raise funds for childhood cancer research.
Nominating Sevalrud for the WCHA Postgraduate Scholarship was Dr. Deborah Narang, Faculty Athletics Representative at the University of Alaska Anchorage.
About the women's Western Collegiate Hockey Association (WCHA)
The women's Western Collegiate Hockey Association has won a record 16 national championships in 17 years since its inception in 1999, while producing six Patty Kazmaier Award winners, 86 All-Americans and numerous Olympic and international team members. The eight-team Division 1 conference consists of: Bemidji State University (Beavers), the University of Minnesota (Golden Gophers), the University of Minnesota Duluth (Bulldogs), Minnesota State University (Mavericks), the University of North Dakota, Ohio State University (Buckeyes), St. Cloud State University (Huskies) and the University of Wisconsin (Badgers). For more information, visit www.wcha.com.
About the men's Western Collegiate Hockey Association (WCHA)
The Western Collegiate Hockey Association, among the most historic, tradition-rich and successful conferences in all of collegiate athletics, proudly marked its 64th season of men's competition in 2015-16. The 10-team Division 1 conference consists of the University of Alabama in Huntsville (Chargers), the University of Alaska Anchorage (Seawolves), the University of Alaska (Nanooks), Bemidji State University (Beavers), Bowling Green State University (Falcons), Ferris State University (Bulldogs), Lake Superior State University (Lakers), Michigan Technological University (Huskies), Minnesota State University (Mavericks) and Northern Michigan University (Wildcats). For more information, visit wcha.com.