Wellhausen Leads Wisconsin Past Bemidji State In WCHA Final Faceoff Semifinals, 4-1
Senior forward Baylee Wellhausen scores hat trick for Badgers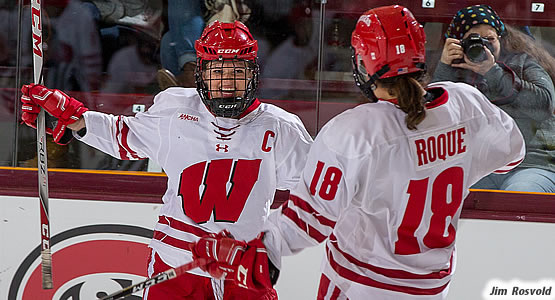 Senior forward Baylee Wellhausen scored a hat trick for the Badgers
| | | | | | | |
| --- | --- | --- | --- | --- | --- | --- |
| Prd | Time | Team | Score | Type | Scored By | Assists |
| 1st | 0:41 | WIS | 1-0 | EV | Baylee Wellhausen (8) | Abby Roque/27, Mikaela Gardner/16 |
| 1st | 19:26.4 | BMJ | 1-1 | PP | Emma Terres (11) | Emily Bergland/13, Paige Beebe/10 |
| 2nd | 11:06 | WIS | 2-1 | SH GW | Baylee Wellhausen (9) | Abby Roque/28 |
| 3rd | 10:45 | WIS | 3-1 | EV | Maddie Rolfes (5) | Maddie Rowe/11 |
| 3rd | 19:30.0 | WIS | 4-1 | EV EN | Baylee Wellhausen (10) | - |
| | | | | |
| --- | --- | --- | --- | --- |
| Scoring | 1st | 2nd | 3rd | Final |
| Bemidji State | 1 | 0 | 0 | 1 |
| Wisconsin | 1 | 1 | 2 | 4 |
| | | | | |
| --- | --- | --- | --- | --- |
| Shots on Goal | 1st | 2nd | 3rd | SOG |
| Bemidji State | 7 | 10 | 6 | 23 |
| Wisconsin | 8 | 13 | 10 | 31 |
| | | | |
| --- | --- | --- | --- |
| Team Stats and Records | PP | PIM | SHGF |
| Bemidji State (16-19-3) | 1/3 | 3/6 | 0 |
| Wisconsin (30-3-2) | 0/2 | 4/8 | 1 |
| | | | | | | |
| --- | --- | --- | --- | --- | --- | --- |
| Bemidji State Goaltending | MIN | GA | 1 | 2 | 3 | Saves |
| Kerigan Dowhy (L, 5-2-1) | 57:18 | 3 | 7 | 12 | 8 | 27 |
| Erin Deters | 0:30 | 0 | 0 | 0 | 0 | 0 |
| Empty Net | 2:12 | 1 | | | | |
| | | | | | | |
| --- | --- | --- | --- | --- | --- | --- |
| Wisconsin Goaltending | MIN | GA | 1 | 2 | 3 | Saves |
| Kristen Campbell (W, 30-3-2) | 59:57 | 1 | 6 | 10 | 6 | 22 |
| Empty Net | 0:03 | 0 | | | | |
MINNEAPOLIS, Minn. - Senior captain Baylee Wellhausen netted her second-career hat trick to lead the No. 1 Wisconsin women's hockey team past Bemidji State, 4-1, Saturday at Ridder Arena, punching a ticket to the WCHA Final Face Off championship game Sunday.
Wisconsin (30-3-2) struck early in the opening frame after sophomore Abby Roque fed a pass to a wide-open Wellhausen at the top of the crease who knocked it between the legs of Bemidji State (16-19-3) goaltender Kerigan Dowhy to give the Badgers a 1-0 lead.
Beavers' forward Emma Terres scored BSU's lone goal of the game to even the score at one late in the first period, but Wellhausen put the Badgers back up by one after scoring UW's first shorthanded goal of the season at the 8:54 mark of the second period. Roque picked up her second assist of the game on the goal.
Junior defenseman Maddie Rolfes grabbed her fifth goal of the season midway through the third period to extend the Badgers lead to three before Wellhausen sealed the victory with an empty-netter goal, her third of the day.
Three Notes of the Game
- Wellhausen now has 10 goals this season, five of which have come at Ridder Arena. The senior netted two goals in the Badgers' October series against the Golden Gophers before adding three in today's game against the Beavers.
- After earning two assists, Roque now has a WCHA-leading 28 assists this season. The forward's performance against the Beavers also earned her her 18th-career multi-point game.
- For the eighth time in program history, the Badgers have won 30 contests in a single season. Wisconsin's best record came during the 2010-2011 season when the Badgers won 37 games en route to winning their fourth NCAA title.
Play of the Game
Seven minutes into the second period, sophomore goaltender Kristen Campbell stuffed a Bemidji State shot before denying the rebound to keep the game tied at one. The WCHA Goaltender of the Year stopped 22 of 23 shots for the Badgers to earn her first postseason win for the Cardinal and White
Straight from the Rink
Head Coach Mark Johnson
Opening Statement:
"I'm certainly pleased with our effort today. I think having last weekend off, when you try to manage energy and getting your players prepared, hopefully, you push the right buttons I liked the level of things I saw within that as far as competing. I told the team all week that the one thing we know about Bemidji is that they're going to compete, they're going to play hard for all 60 minutes, and we tried to match that intensity. I'm very proud of the team, and I'm proud of the young lady next to me, it's a good time to get a hat-trick. We're excited to have the opportunity to play for another trophy tomorrow afternoon."
On Baylee Wellhausen:
"This time of year, somebody's got to step up, somebody's got to make a play, somebody's got to score a goal or block a shot. You just watched her effort on the third one into the empty net. She knew that there wasn't a goalie, but she still was behind her player, and got out there a little bit tired. But, as a forward, when you see an empty net you're going to really fast after it. I'm just really happy for her. She's had a great career with not only the things she's done on the ice, but I think equally in the ways that she's represented us. She's done a lot of things off the ice to carry a legacy from her career here. When your seniors are doing good things at the end of the year in playoff games, you're really happy for them. I'm certainly really happy for Baylee."
On having a bye last weekend, and playing with such a young team:
"Especially with a young team, they got a little bit of extra time to prepare for what's ahead of them. For a lot of them, today was their first experience as a playoff team, and you never know how they're going to react. You hope that they're consistent and do the things that they've done all year. For the most part, they seem to be comfortable. When you start two freshmen in the starting lineup, how are they going to react? I thought for most of them, they did a really nice job. I thought (Grace) Bowlby, (Natalie) Buchbinder settled down as the game went on. They seemed to be a little bit more relaxed than they were in the first period, so those are all good signs."
Senior forward Baylee Wellhausen
On winning their first WCHA Final Faceoff game:
"There's something about playing in Minnesota. They're a huge rival for us, so playing in this rink is always an extra energy boost for me. Today, the whole team was having a lot of fun in the locker room, we were dancing, we were getting loose, and I think that made us really relaxed to play here. We went out there and we definitely had a lot of fun."
On her hat trick:
"It meant a lot. I knew that if I got those pucks in it would be a little bit easier to play heading in there. I think the team worked really hard though, those passes from Abby (Roque), I wouldn't have gotten those goals without her. I'm really proud of the effort that we had and we fought until the very end. It's not even about me, I just give it all to my team.
"That pass was awesome. I was skating hard, I looked up, and I had a lot more time than I thought I did, so that was awesome. I just went down and the goalie was backing in, so I had to shoot, and I was lucky enough that it went in this time. It was really exciting, especially to turn around and see my team coming at me with all the excitement. It was great, especially during a shorthanded goal, it's kind of a little bit of a dagger and kills their momentum a little off their power play, so it definitely felt good to get that."
Sophomore goaltender Kristin Campbell
On the defense:
"I think the D did a great job of blocking shots in front of me. They would really take over, especially in those third periods when we're up by a goal and you have to do whatever it takes to get the win. I know the D are going to come up huge for me and do whatever it takes."
Up Next
Wisconsin will take on the winner of Ohio State and Minnesota on Sunday in the WCHA title game. Puck drop at Ridder Arena is at 2 p.m. and the game can be seen live on Fox Sports Wisconsin and Fox Sports North.