Minnesota Shuts Out Ohio State, 2-0, in WCHA Final Face Off Semifinals
Senior goalie Sidney Peters makes 33 saves for Gophers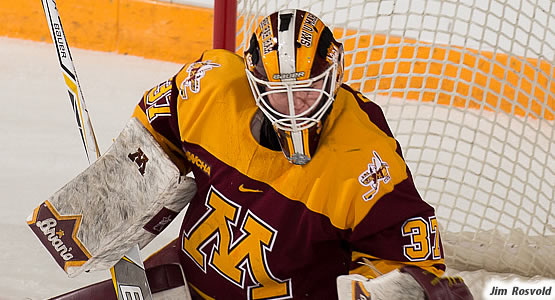 Senior goalie Sidney Peters made 33 saves for the Gophers
| | | | | | | |
| --- | --- | --- | --- | --- | --- | --- |
| Prd | Time | Team | Score | Type | Scored By | Assists |
| 2nd | 2:26 | MIN | 1-0 | EV GW | Grace Zumwinkle (16) | Taylor Wente/13, Olivia Knowles/12 |
| 3rd | 19:00.5 | MIN | 2-0 | EV EN | Grace Zumwinkle (17) | - |
| | | | | |
| --- | --- | --- | --- | --- |
| Scoring | 1st | 2nd | 3rd | Final |
| Ohio State | 0 | 0 | 0 | 0 |
| Minnesota | 0 | 1 | 1 | 2 |
| | | | | |
| --- | --- | --- | --- | --- |
| Shots on Goal | 1st | 2nd | 3rd | SOG |
| Ohio State | 10 | 7 | 16 | 33 |
| Minnesota | 6 | 12 | 9 | 27 |
| | | | |
| --- | --- | --- | --- |
| Team Stats and Records | PP | PIM | SHGF |
| Ohio State (23-10-4) | 0/0 | 0/0 | 0 |
| Minnesota (23-10-3) | 0/0 | 0/0 | 0 |
| | | | | | | |
| --- | --- | --- | --- | --- | --- | --- |
| Ohio State Goaltending | MIN | GA | 1 | 2 | 3 | Saves |
| Amanda Zeglen (L, 5-2-0) | 58:44 | 1 | 6 | 11 | 8 | 25 |
| Empty Net | 1:16 | 1 | | | | |
| | | | | | | |
| --- | --- | --- | --- | --- | --- | --- |
| Minnesota Goaltending | MIN | GA | 1 | 2 | 3 | Saves |
| Sidney Peters (W, 16-8-1) | 60:00 | 0 | 10 | 7 | 16 | 33 |
MINNEAPOLIS, Minn. - Grace Zumwinkle scored both goals and Sidney Peters made 33 saves in her fourth shutout of the season as No. 7 Minnesota skated to a 2-0 win over No. 5 Ohio State in the WCHA Final Faceoff semifinal round at Ridder Arena Saturday night.
Zumwinkle put Minnesota (23-10-4) on the board with her 16th goal of the season at the 2:26 mark of the middle frame. Her shot beat OSU netminder Amanda Zeglen five hole, and Taylor Wente and Olivia Knowles assisted on the play. Zumwinkle then sealed the win with an unassisted empty-net goal with one minute remaining.
"Well, we are excited to be moving on to the Final Face Off Championship," head coach Brad Frost said. "It was a great game here tonight. I thought our team played extremely hard, really battled and competed. Slow start and we caught a break there with that goal being waved off right away, but I thought we settled in about seven minutes in and really started playing the way that we know we can.
"Sidney Peters was fantastic, obviously, and Zummy -- and her line in particular -- played a really big role. It was a true team effort here tonight, and everybody fulfilled their roles really well. I am really happy for the team and to be moving on."
Ohio State (23-10-4) was led by Zeglen's 25-save effort along with seven shots on goal apiece from Charly Dahlquist and Maddy Field.
OSU had the advantage in shots on goal, 33-27, for the game, but the Gophers had a 12-7 advantage in the second period. Neither team took a penalty in the game.
"Up until the last couple weeks, we have struggled with putting three whole periods together and tonight we did that," Peters said. "Last weekend against St. Cloud State, I thought we played two solid games. It's a sign of maturity, and it shows that our team has grown throughout the season."
Minnesota improved to 20-2-2 when leading after two periods this season and will make its 16th appearance in the WCHA title game. The Gophers last won the WCHA Final Faceoff in 2014, having won three-straight titles in 2012, 2013, and 2014; the Maroon & Gold also won WCHA postseason crowns in 2002, 2004, and 2005.
Wisconsin defeated Bemidji State, 4-1, behind a hat trick from Baylee Wellhausen in Saturday's first WCHA semifinal.
The Gophers and Badgers will meet in the WCHA Final Faceoff championship at 2:07 p.m. CT Sunday at Ridder Arena, and the game will air live on FOX Sports North. Sunday's game will be a rematch of the 2016 WCHA title game, which the Badgers won 1-0.